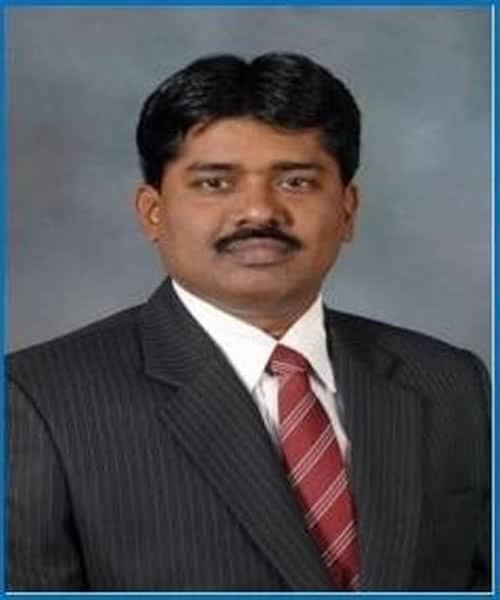 Dr.R.Velraj
Vice Chancellor
Contact Info

Address:

Sardar Patel Road, Anna University, Chennai - 600 025

Email:

vc@annauniv.edu

Website:

www.velraj.com
Educational Qualification and Field of Specialization
Dr. R. Velraj, Professor, Institute for Energy Studies specialized in Thermal Energy Storage, Solar Energy, Desalination, Energy efficient buildings, Energy Auditing and Management, and fundamental studies of Heat Transfer & Computational Fluid Dynamics.
Bachelor of Engineering (Mechanical- Annamalai University), Masters on Energy Engineering (Anna University) and Ph.D. at Anna University and part of the doctoral research he carried out in Solar Institute, Juelich, Germany for a period of 20 months (1995 - 1997) under DAAD Fellowship by Germany.
Administrative Experience (14 Years)
Administrative position as Deputy Director, Centre for Engineering Partnership (renamed as Centre for affiliation of Institutions) for 6 years from 2004 to 2010.
Director, AU - FRG Institute for CAD/CAM for 3 years from 2010 to 2013.
Director, Institute for Energy Studies for 5 years from 2013 to 2018.
Attended LEAP training for a period of 2 weeks in IIT-BHU Dt: 8.12.2019 to 21.12.2019 and 10 days in Cambridge University, U.K Dt: 19.12.2020 to 26.01.2020.
Research Credentials
Executed 15 sponsored research projects (13 as PI and 2 as Co PI) which includes collaborative projects with Technical University, Munich, Germany, University of Birmingham, UK and Concordia University, Canada. Presently executing a research project as PI in collaboration with 7 Universities on the development of Renewable Energy based Microgrid with a grant of Rs. 15 crores and another project jointly with IIT, Madras in the field of solar Desalination (PI to AU - 1.75 crores).
Published more than 225 research articles in journals of high repute, 1 book, 1 chapter and completed supervision of 37 Ph.D. 9 ongoing and contributed substantially for 8 more scholars.
Editorial Board member of the Elsevier Journal 'Sustainable Cities and society'
Scientific citation - 10150 with H-index of 52. (As per Google scholar citation)
AD scientific Index has ranked under various categories as below:
Based on H index & Total citation - First rank in AU (Till today and also for the last 5years).
In the field of Energy Engineering - 5th position nationally and 113th Position globally.
Consultancy, Industrial Collaborations and Technology Transfer
Granted 2 patents in the field of cool thermal storage and compressed air energy storage and has filed 7 patents in the field of solar and other energy applications.
Executed 38 consultancy projects - (28 As Principal Consultant & 10 as team member) for several industries in the area of energy technologies, Thermal Storage, CFD analysis and Biomass resource assessment studies.
Made Technology transfer with "ETA SMART PVT LTD", a Chennai based company in the field of Cool Thermal Storage System through Anna University and two more technology transfer through Research project collaborations.
Green Initiatives and other Contributions to Society
Implemented several green initiatives inside Anna University campus
Biogas plant for cooking using 1 ton food waste per day.
Centralized solar PV street lighting system (25 kW with 235 street lights).
Solar operated (35 kW) air-conditioning (30 TR) for 5000 sq. feet space with cool thermal storage (20 Ton hour) which will be in operation from September 2021.
Solar power generation (10 kW)
Solar water pumping system (4 kW)
Served & Serving as resource person in various international and national forums in his field of research, reviewer for several international journals of repute, and member of Governing Council / Academic council/ Board of Studies for various Universities and Autonomous Institutions.
Served & serving as expert member for various International research forums, Government bodies like International Energy Agency (IEA), Raj Bhavan, TEDA, IEI, Science City, TIDCO, TIDEL PARK, IRT, NLC, NIOT, AICTE, SAMEER, reputed Universities and Institutions and also for the Government funding bodies like MNRE, DST, NIWE and TNSCST.
Initiated several international collaborations, Industrial collaborations and also visited several countries (Germany, Spain, UK, and Russia) as expert member/DST delegation.
Organised several International and national workshops/conferences, Awareness programs on Solar Energy and conducted more than 100 short term training Programmes and beneficiaries are several students, scholars, academicians, various industrial stakeholders and public.
Awards and Honors
International:
DAAD Fellowship by Germany as a part of doctoral work
Recognised as the top 2% Scientists ( International Level) in the field of Energy vide the recently released list by Stanford University, USA Dt: 08.10.2020
Recipient of "Best Poster Award - 2012" by Defence Institute of Advanced Technology, Pune, Naval Post Graduate School & Office of Naval Research, USA.
National:
Board of Governors of 'National Design and Research Forum' Bangalore.
Secured first rank in the poster presentation at "India International Science Festival" under the theme "Water Segment" organized by the Ministry of Science and Technology; Ministry of Earth Sciences and Ministry of Health and family Welfare, Govt. of India in collaboration with VIBHA and CSIR Dt: 22.12.2020.
Recipient of 'Bharat Jyoti Award' towards scientific contributions in the year 2017 by India International friendship society.
State Level:
Recipient of "Tamil Nadu Scientist Award (TANSA) 2014 (Environmental Science)" by Government of TamilNadu - Received from Hon'ble Minister for Higher Education, in the year 2017.
Recipient of "Active Consultant Award - 2011" by Anna University.
Recipient of "Best Innovation Award - 2013" by Anna University.
Recipient of "Achievement Award" by Appadurai Chair for Power Systems, Anna University in recognizing the contribution towards technological developments to be adopted by TANGEDCO in the year 2017.
Recipient of Research Excellence Award in 2019 by CTDT Anna University.
Recipient of "Distinguished Researcher Award" in the year 2019 by Anna University. (Only person received this award till now in the 4 Constituent colleges of Anna University.
Recipient of "Certificate of Appreciation" for high impact research publication by CEG, Anna University.
Committee Member of the Institution of Engineers (India) as Eminent Engineer, TamilNadu State Centre. (Period 2018 - 2021)