Day Care Centres in Main campus and MIT Campus are functioning under the auspices of Centre for Empowerment of Women, Anna University.
Day Care Centre – Main & MIT Campus:
Day Care Centres have been established at both the Main Campus (2002) and MIT Campus (2009) utilizing grants from UGC, New Delhi. The Day Care Centres (DCC) provide safe care of children of the employees of Anna University. The DCC has women care takers to ensure peaceful and safe stay of children in the age group of 2 – 13 years on full day half-a-day and after-school basis, availed by the parents. Both the DCC are equipped with air-conditioners, cots, play materials for both indoor and outdoor play and a library stocked with children's books. The children are engaged in activities like playing, reading and painting in the Centre. The Centres also conduct Competitions and games for the children availing Day Care.
Day Care Centre - Main Campus

Day Care Centre – MIT Campus

Establishment of new premises for Day Care Centre, Main campus:
A new building has been constructed for the functioning of Day Care Centre, in the main campus. The new building was inaugurated by honourable Vice-Chancellor Dr.R.Velraj on 1.9.2021. The Centre has start functioning in the new premises from the month of September 2021.
Vice Chancellor Dr.R.Velraj inaugurating the new building for Day Care entre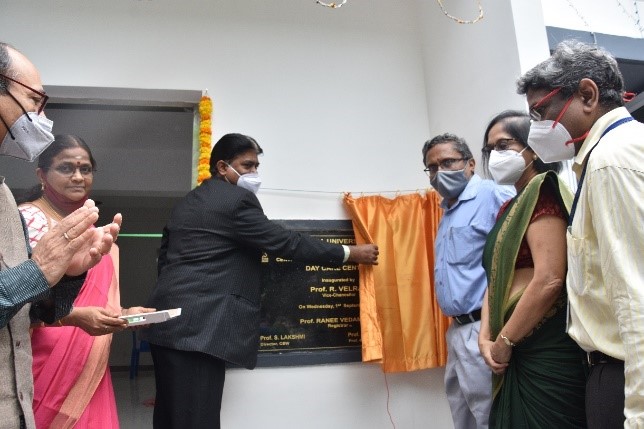 Day Care Centre, New building in the Main Campus