The Centre for Empowerment of Women, Anna University was started in October 2002, Anna Universit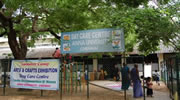 y, being the premier technical university of India is the most ideally suited institution to start the centre. There are more than 300 lady faculty members and around 500 lady research scholars of Anna University from all disciplines of science and technology and lot more ladies in the affiliated colleges. With so many women scientists and technologists, this centre can be the catalyst to facilitate transfer of technology to rural areas to improve the quality of lilfe of women.

Genesis for the Centre:
The Seminar on "Academic Challenges for women in the 21st Century" was conducted by Anna University during November 30 – December 2, 2000. After the Conference, the first conclusion arrived at was, to quote, "Universities, Colleges, and other research institutions may be requested to involve a few urban, rural women in technical seminar and product priented workshops to find out what type of technological help or equipment they want. This will give an application oriented focus to research."
As a consequence, a second seminar "Empowerment of Women through technology and science" was organized during August 29-31, 2002 at Anna University. This was designed as an outreach program for the women from rural and urban areas belonging to the self help groups. This conference was accompanied by an exhibition displaying various skills, models and products. The academicians interacted with the self help group women lacking formal education but possessing traditional knowledge and skills that can be upgraded through science and technology. The lectures covered very interesting topics ranging over finance, banking, legal aspects and strategies for women entrepreneurs. At the valedictory function, the Vice-Chgancellor of Anna University declared that the University would start a Centre for Empowerment of Women.

Agencies involved with the Activities of the Centre:
Tamil Nadu Pollution Control Board, Chennai
Tamil Nadu Corporation for Developm ent of Women, Chennai
Directorate of Rural Development, Tamil Nadu, Chennai
Science and Technology Entrepreneurship Development Scheme, Tbiruvallur
Small Industries Service Institute, Chennai
Banks
Industrial and Technical Consultancy Organization of Tamil Nadu Limited, Chennai.
Madras School of Social Work, Chennai.